SDS Bootcamp and Training Courses
DATACAMP

The School of Data Science and College of Computing and Informatics launched a new partnership with DataCamp in 2022. DataCamp is an online learning platform that focuses on teaching students the comprehensive skills they need to become successful data scientists. The platform provides a fun and interactive way to master the foundation and learn advanced-level coding skills. DataCamp will help you keep you fluent in the language of data. All SDS students actively enrolled in classes, and all SDS faculty and staff, have FREE access to the full suite of training modules, and access to learning resources on hundreds of topics in the field of data science. Looking for a convenient review of SQL? An overview of Tableau techniques? An introduction to PowerBI?
Custom Tracks for SDS Students
The SDS faculty have collaborated to create two custom tracks, SDS R Bootcamp and SDS Python Bootcamp, on DataCamp. Following the directions to enroll:
Log in to DataCamp using your registered university email id.
Go to Learn —> Tracks —> Organization Tracks.
Select your preferred custom track.
Upon completion of each Custom Track/Bootcamp, students will receive a statement of accomplishment to demonstrate their readiness for the courses.
---
SDS BOOTCAMP COURSES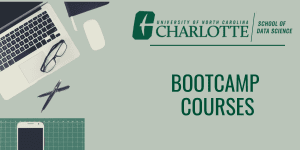 In addition to DataCamp, the School of Data Science has also created some "in-house" training modules in Canvas. These courses are online, asynchronous, and available to all SDS students. Fall 2023 sessions are currently open for students actively enrolled in SDS graduate and undergraduate courses.
COURSE DESCRIPTIONS
Introduction to SAS For Data Science
This self-paced course provides an introduction to programming in SAS. It covers SAS libraries, datasets, variables, data import, and additional SAS training materials.
Overview of Statistics for Data Science
This self-paced course helps students build a foundational understanding of statistics necessary for success in the data science program. It covers the basics of statistics, probability, probability distributions, descriptive statistics, and hypothesis testing.
COURSE REQUIREMENTS
Each course is designed to be completed within four weeks or less. Upon successful completion of each course, students will receive a statement of accomplishment in the form of a PDF badge, which will be shared via email. These badges can be presented in future courses to demonstrate completion and avoid retaking a boot camp course.